"An Irish Family in the Heart of Little Germany" – Tenement Museum Virtual Tour
Date: 03/10/2022
Time: 5:30 pm-6:30 pm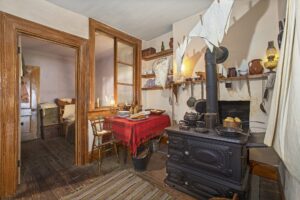 Travel back to 1860s New York to visit Joseph and Bridget Moore, Irish immigrants living with their children at 97 Orchard Street. We'll visit their tenement apartment to understand daily life and discuss the Moore's experiences as Irish New Yorkers. How were they making an Irish home in the heart of the 'Little Germany' neighborhood? What discrimination might they have faced, and what opportunities did they have as Irish immigrants?
The Tenement Museum provides many opportunities to understand the experiences of immigrants and migrants, and the fundamental role they play in defining our national identity. The museum's two historic buildings were home to thousands of residents in the Lower East Side neighborhood in Manhattan, New York. During this live, online interactive event, a Tenement Museum Educator will share stories of the Moore family using video, audio recordings, images, historical documents, and photographs.
Please register here for this program, limited to 35 participants. Registration closes at 5:25pm on Thursday, March 10.
Registration:
Registration is closed for this event.