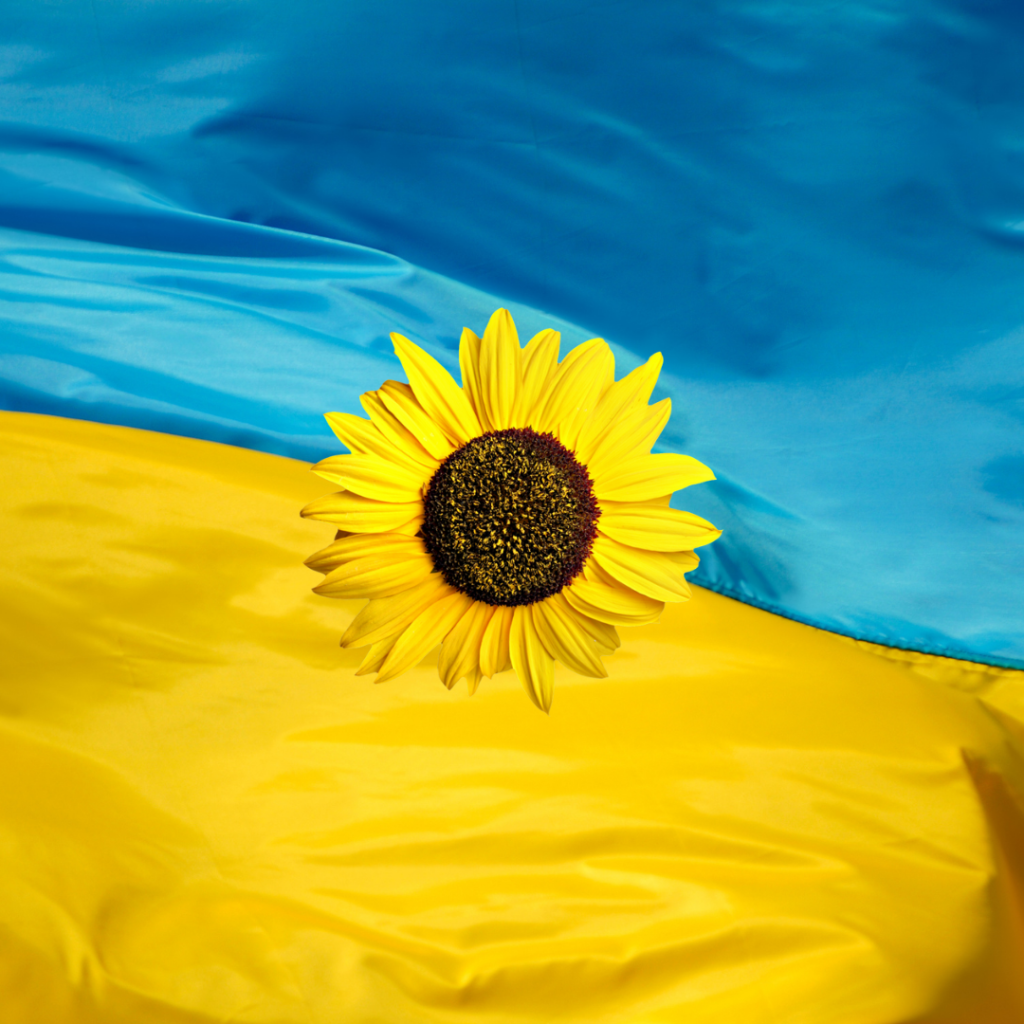 How to Help:
Want to support the people in Ukraine? Here's how you can help (NPR)
Afya Foundation
The Afya Foundation is working in partnership with the U.S. Ukraine Foundation and others to support the Ukrainian medical community and refugees seeking aid. Afya's Disaster Response Hub has been preparing wound care, surgical equipment, and biomedical equipment to be shipped.
Americares
Americares is helping deliver aid for families facing crisis in Ukraine and other emergencies around the world.
Anne Garrels, Norfolk resident and former NPR foreign correspondent, has set up an NGO Assist-Ukraine.org to help Ukrainians in Ukraine resist the Russian onslaught. Thanks to her long years in the region as an NPR correspondent and new expanded contacts, Assist Ukraine has delivered more than $200,000 worth of high-end medical supplies and protective gear and are hand-carrying another $100,000 in 1500 excellent trauma kits as specified by leading doctors in Ukraine.
CARE Ukraine Crisis Fund
Raises money for immediate emergency aid.
Charity Navigator: Ukrainian-Russian Crisis
Lists highly rated charities involved in humanitarian relief, recovery, and peace-building efforts.
CNN Impact Your World
Joint effort with publicgood.com to support 37 organizations providing aid to Ukrainians.
Come Back Alive
Come Back Alive is a Kyiv based organization that supports Ukrainian soldiers with immediate necessities, food and supplies.
Doctors Without Borders
An independent and impartial organization committed to providing medical humanitarian assistance to people affected by the war no matter who they are or where they are.
A global leader in animal rescue and emergency care, IFAW is operating on the Poland-Ukraine border to support refugees and their pets, source dog and cat food / supplies for animal shelters, and facilitate animal rescues.
International Committee of the Red Cross
The Ukrainian Red Cross is helping people affected by the conflict as the security situation allows, providing first aid and psychosocial support. Red Cross Societies in surrounding countries, with support from the IFRC, are assisting people leaving Ukraine with shelter, basic aid items and health services.
Jewish Federations of North America
Jewish Federations of North America have launched a central volunteer hub in support of refugees fleeing Ukraine. The new initiative recruits and place hundreds of skilled volunteers on the ground over the next few months. JFNA also provides information about the crisis and other ways to be involved.
Save the Children's Ukraine Crisis Relief Fund
Save the Children's Ukraine Crisis Relief Fund can help provide children and families with immediate aid, such as food, water, hygiene kits, psychosocial support and cash assistance.
U.S. Ukraine Foundation
Donations to the U.S. Ukraine Foundation go to social and humanitarian programs, refugees, Operation "Ukraine AirLIFT" and the Kyiv Rotary Refugee Initiative.
For Kids and Parents:
How to Talk to Kids About Ukraine
How to talk about current events with your children & how to be aware that their concerns/anxiety can come in different forms than adults.
Learn About Ukraine:
A to Z World Culture
A Norfolk Library database with culture guides for 174 countries, including Ukraine. Learn about Ukraine history, culture, language, foods, religion, and more.
Ukrainian Museum & Library of Stamford, CT
The Ukrainian Museum and Library of Stamford is the oldest cultural institution established by Ukrainians in North America. It is dedicated to the collection, documentation, preservation and exhibition of artifacts and publications dealing with Ukrainian culture and heritage. By making its resources available for study and research, it is instrumental in the dissemination and advancement of knowledge about Ukraine and the Ukrainian ethnic community in the United States.
The Russian Invasion of Ukraine: Resources at the Library of Congress
Directs visitors to resources on understanding the situation in Ukraine.
Ukraine's history and its centuries-long road to independence (Ali Rogin, Morgan Till, PBS)
Ukrainian Research Institute at Harvard University (HURI)
The leading academic institution in the United States dedicated to the support of scholarship and the dissemination of knowledge about Ukraine and its neighboring countries of Eastern Europe.
United with Ukraine (U.S. Department of State)
Books* available at the Norfolk Library
Vita Nostra by Marina Di͡achenko
Midnight in Chernobyl: the untold story of the world's greatest nuclear disaster by Adam Higginbotham
Grey Bees by Andrey Kurkov
Words for War: New Poems from Ukraine edited by Oksana Maksymchuk, Max Rosochinsky
The Rose of Sebastopol by Katharine McMahon
The Lost: The Search for Six of Six Million by Daniel Mendelsohn
I Will Die in a Foreign Land by Kalani Pickhart
Everything is Illuminated by Jonathan Safran Foer
The Mitten: An Old Ukrainian Folktale by Alvin R. Tresselt and Yaroslava
*These books are either by Ukrainian authors or about Ukraine.
Other recommended books
Life and Fate by Vasily Grossman
"A book judged so dangerous in the Soviet Union not not only the manuscript, but the ribbons on which it had been typed were confiscated by the state.
Fieldwork in Ukrainian Sex by Oksana Aabuzhko
Called 'the most influential Ukrainian book for the 15 years of independence,' this book tells the tale of one woman's personal revolt provoked by a top literary scandal of the decade.
The Night Before Christmas by Nikolai Gogol
Nikolai Gogol's hilarious and macabre tale of a Christmas Eve with a devil and a romantic twist.
Execution by Hunger: The Hidden Holocaust by Miron Dolot
This poignant eyewitness account of the Ukrainian famine by one of the survivors relates the young Miron Dolot's day-to-day confrontation with despair and death—his helplessness as friends and family were arrested and abused—and his gradual realization, as he matured, of the absolute control the Soviets had over his life and the lives of his people.
Hardly Ever Otherwise by Maria Matios
Narrates the story of several western Ukrainian families during the last decades of the Austro-Hungarian Empire, and expands upon the idea that "it isn't time that is important, but the human condition in time."
Mesopotamia by Serhiy Zhadan
His novel provides an extraordinary depiction of the lives of working-class Ukrainians struggling against an implacable fate: the road forward seems blocked at every turn by demagogic forces and remnants of
the Russian past.
Love and Vodka: My Surreal Adventures in the Ukraine by R.J. Fox
Experience life in a city that, until the mid-1980s, was closed to foreign visitors. R.J. Fox's humorous, poignant, and memorable expedition is punctuated by a colorful cast of characters, adventures, and
cultural mishaps and misunderstandings
Dancing in Odessa by Ilya Kaminsky
Impossibly young, this Russian immigrant makes the English language sing with the sheer force of his music, a wondrous irony, as Ilya Kaminsky has been deaf since the age of four.
Vono Shilov Grad by Serhiy Shadan
The bleak industrial landscape of now-war-torn eastern Ukraine sets the stage for Voroshilovgrad, the Soviet era name of the Ukranian city of Luhansk, mixing magical realism and exhilarating road novel in
poetic, powerful, and expressive prose.
Red Famine: Stalin's War on Ukraine by Anne Applebaum
From Pulitzer Prize-winning author, a revelatory history of one of Stalin's greatest crimes—the consequences of which still resonate today
The Museum of Abandoned Secrets by Oksana Sabuzhko
Spanning 60 tumultuous years of Ukrainian history, this multigenerational saga weaves a dramatic an intricate web of love, sex, friendship, and death.
The Land of Stone Flowers by by Svetlana Dorosheva, Jane Bugaeva (Translator)
Draws readers into a world of fantasy and fable that slyly reveals many hidden truths about human existence.
Shush! A Memoir of Growing Up Jewish Under Stalin by Emil Draitser
Lively, evocative, and rich with humor, this unforgettable story ends with the death of Stalin and, through life stories of the author's ancestors, presents a sweeping panorama of two centuries of Jewish history in Russia."
Moonlight in Odessa by Janet Skeslien Charles
A wry, tender, and darkly funny look at marriage, the desires we don't acknowledge, and the aftermath of communism, Moonlight in Odessa is a novel about the choices and sacrifices that people make in the pursuit of love and stability.
Pysanky (Ukrainian Egg Decorating):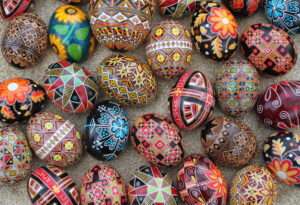 Pysanky | Through Our Parents' Eyes (University of Arizona)
Pysanky: The Beautiful Tradition of Ukrainian Easter Eggs and How to Make Your Own (Jessica Stewart, My Modern Met)
Ukrainian Egg Decorating Takes a Modern Twist (Jessica Messier, Worcester Polytechnic Institute)
Eggs and Art – The Tradition of Pysanky (STAR Net)