Please subscribe to our bi-weekly Night Owl e-newsletter for up-to-date information about our free programs. The subscription box may be found on our Home Page on the left-hand side of your computer screen if you are using a desktop. All programs are free, but we ask that you please call the Library at 860-542-5075 or register online to reserve a place.
Concert: The Music of Shakespeare's Plays with Ensemble Chaconne
Saturday, September 9, 5:30 – 6:30 p.m.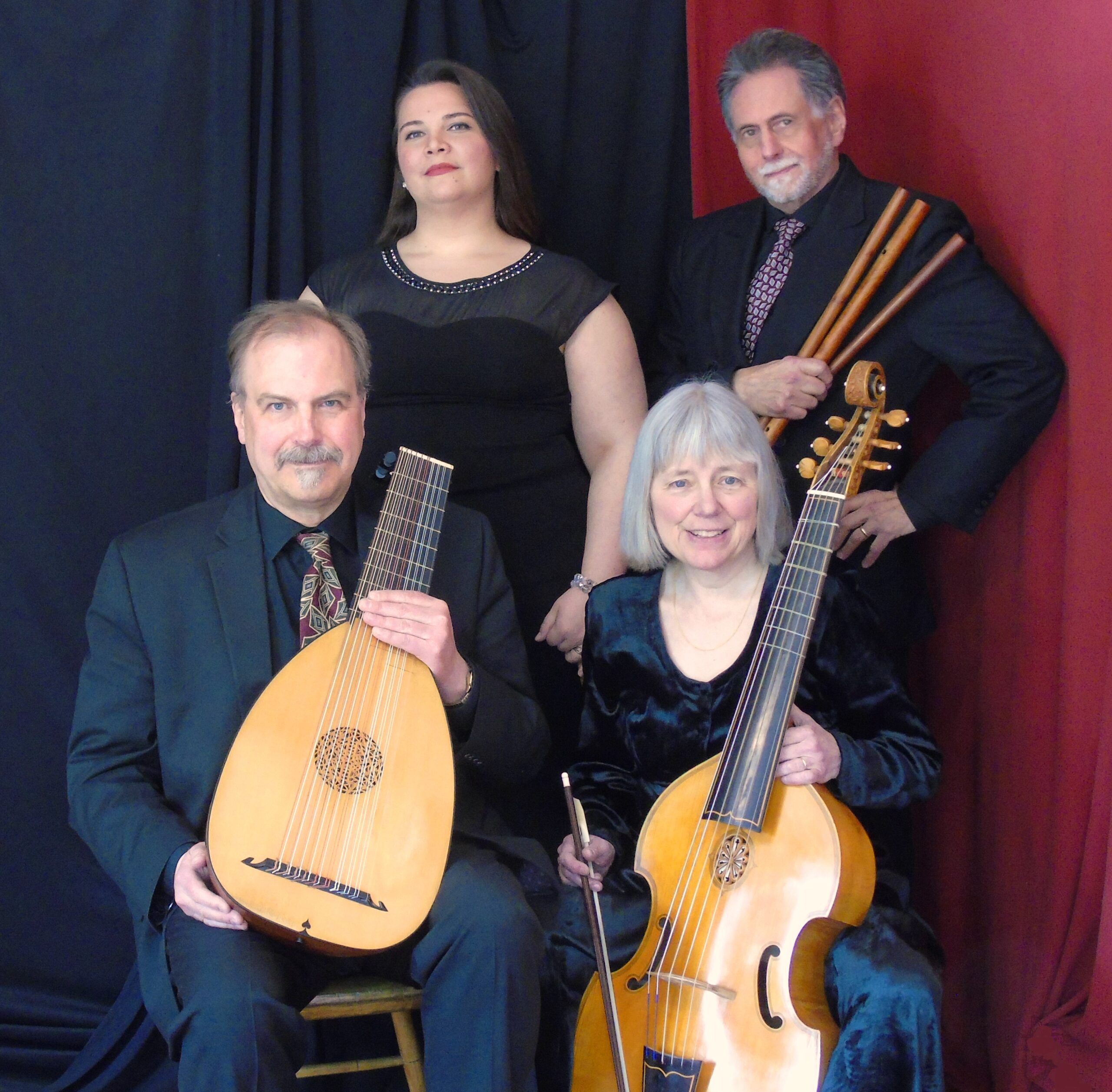 The internationally-acclaimed Ensemble Chaconne transports the audience to Shakespeare's world with Measure for Measure: The Music of Shakespeare's Plays. The concert features music by leading composers of Shakespeare's time (Robert Johnson, Thomas Morley, John Dowland, and others) with songs from As You Like It, Twelfth Night, The Winter's Tale, The Tempest, Hamlet, Othello, and Macbeth. The ensemble members are Peter H. Bloom, renaissance flute; Carol Lewis, viola da gamba; Olav Chris Henriksen, renaissance lute; and mezzo-soprano Burcu Gulec. Their Shakespeare concert has been called "the perfect Elizabethan evening" (The Portland Press Herald).
Ensemble Chaconne has given more than 85 performances of the Shakespeare concert and can be heard on the CD Measure for Measure: The Music of Shakespeare's Plays. Among the many selections are "The Willow Song" sung by Desdemona in Othello; "It Was a Lover and His Lasse" (As You Like It); "O Mistress Mine" (Twelfth Night); "Full Fathom Five" (The Tempest), "Go from My Window" from Ophelia's mad scene in Hamlet; and Greensleeves," the famous ballad tune (quoted in The Merry Wives of Windsor).
Please register here for this free concert.
"Ensemble Chaconne, both in its individuals and together, is a powerhouse of great playing." (Classical Voice of North Carolina)
"Ensemble Chaconne is an American group founded in 1985 and has made a specialism of the music of this period; they play with style and verve." (MusicWeb International)
Founded in 1985, Ensemble Chaconne tours extensively in the U.S. and abroad, with performances for The National Gallery in London, The Bach Festival Society of Winter Park Florida, The National Gallery of Canada in Ottawa, The Edison Theatre in St Louis, the Yale Center for British Art, Jordan Hall in Boston, Spivey Hall in Atlanta, Connecticut Early Music Festival, Stamford Friends of Music (NY), the Shakespeare Folio Exhibition at Drew University, The Shakespeare Association of America, and the Royal Shakespeare Company Residency at Davidson College, to name a few.
Peter H. Bloom, renaissance flute, whose playing has been called "breathtaking" (Ivan Rod Review, Denmark), "gorgeous" (Gapplegate Music Review), and "a revelation for unforced sweetness and strength" (The Boston Globe), concertizes in the U.S., Canada, Europe, Asia, Australia, and New Zealand; is featured on 48 recordings (Sony Classical, Dorian, Leo Records, other labels); and is a winner of the American Musicological Society's Noah Greenberg Award. Bloom has performed in London, Bangkok, Canberra, Wellington, Ottawa, and other world capitals, and in hundreds of cities across 40 states and four continents. His career spans chamber music from the Renaissance to the 21st century, and he is a noted jazz artist. He has performed with distinguished artists including Ensemble Aubade, Henning Ensemble, Grammy-nominee D'Anna Fortunato, and the Aardvark Jazz Orchestra (50th season). Among his many performances on historical flutes are concerts for Animusic Portugal, The New York Flute Club, The American Musical Instrument Society, the American Antiquarian Society, Christie's-New York, and the Museum of Fine Arts Boston. He is contributing editor for Noteworthy Sheet Music; and has given lectures and workshops across the globe.
Olav Chris Henriksen, acclaimed in Europe and North America as a soloist on lute, theorbo and early guitars, is also a much sought-after ensemble player, performing and recording with the Boston Camerata, Handel & Haydn Society, Waverly Consort, and Chanticleer, among others. His solo recordings are on Centaur and Museum Music; he has also recorded for Nonesuch, Erato, Pro Musica, Telarc and Decca. He has lectured at Harvard University, Northeastern University, the Nelson Atkins Museum (Kansas City), Musikkhögskolen (Oslo), the Museum of Fine Arts Boston and elsewhere. He has taught at the Boston Conservatory and the University of Southern Maine. The Boston Herald praised his playing, saying, "Henriksen was able to dazzle with his virtuosity in the fantastical figurations of John Dowland's solo Fantasy for lute and Kapsberger's similarly brilliant Toccata prima."
Carol Lewis has been called a "zestful and passionate champion" of the viola da gamba. She has demonstrated her virtuosity and versatility as a soloist in the U.S. and abroad, and has toured internationally with Hespèrion, Boston Camerata, Capriccio Stravagante and other noted ensembles. She appeared recently with Boston Camerata at The Cloisters (New York) and the Rijksmuseum in Amsterdam, with Dunya at College of the Holy Cross, and with Cappella Clausura in the Boston area. She has recorded on Astrée, EMI, Lyrichord, Harmonia Mundi, Nonesuch, and other labels, and has taught at Festival dei Saraceni (Pamparato, Italy), Milano Civica Scuola di Musica (Italy), New England Conservatory of Music, Amherst Early Music and elsewhere. The Boston Herald called her playing "brilliantly florid," and the Centre Presse (Poitiers, France) admired her "technique and musicality, her breathtaking dexterity."
Mezzo-soprano Burcu Gulec has performed in the United States and abroad, appearing in New York, Boston, Detroit, Seattle, and throughout Turkey (Ankara, Antalya, Kastamonu, other cities). Acclaimed for charisma, versatility, and impressive vocal range, she has appeared with Grammy-nominated Mehmet Ali Sanlıkol, Robert Larabee, the early music/world music group Dünya, and other noted ensembles.