Concert: Moonshine Holler
Date: 01/18/2020
Time: 5:00 pm-6:00 pm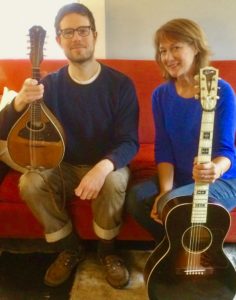 EVENT CANCELLED DUE TO IMPENDING WINTER WEATHER
MOONSHINE HOLLER (Paula Bradley & Pete Killeen) performs lively traditional American roots music featuring spirited renditions of Appalachian blues, breakdowns and ballads, with flatfoot dancing to boot, on fiddle, banjo, guitar, mandolin, harmonica and ukulele. They not only entertain, but also enlighten audiences on the multi-cultural influences of traditional American roots music – "old-time music from the heart with sole" (pun intended !) –  sometimes rowdy, sometimes reverent, always a ruckus! 
Paula has toured the US and Germany on banjo with old-time darlings "Uncle Earl" and teamed up with fiddle powerhouses Bruce Molsky and Brittany Haas (Crooked Still) for a tour of Sweden. Along with Bruce, she was also a member of the trio "Jawbone" featuring banjo innovator Tony Trischka. She has also recorded and performed with old time trios The Rhythm Rats (with Kenny Jackson and Whitt Mead) and The Haywire Gang (with Mac Benford and John Hoffmann).

Registration:
Registration is closed for this event.