An Evening with Sandra Cisneros
Date: 04/08/2021
Time: 7:00 pm-8:00 pm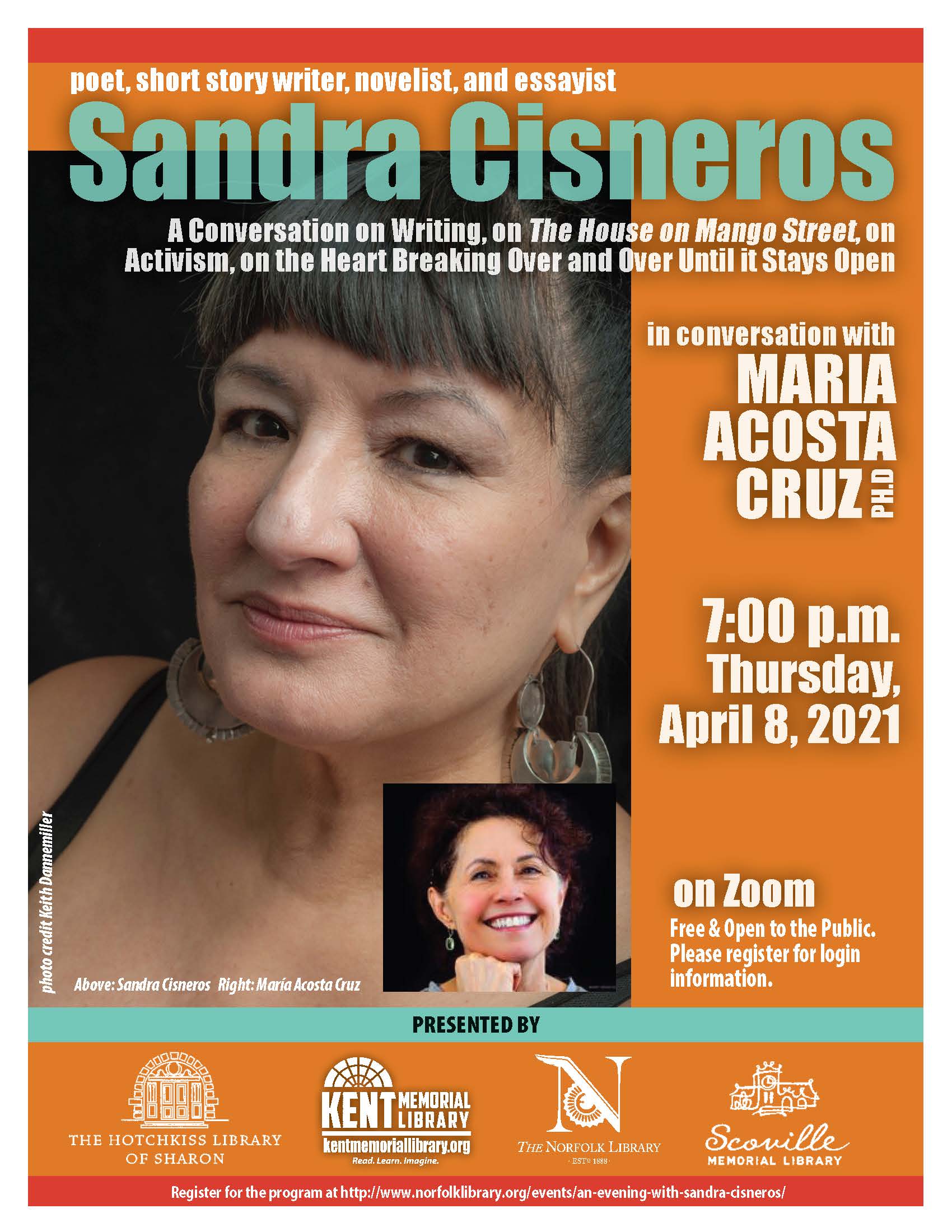 Join us for this rare opportunity to be entertained, challenged, and inspired by one of our most influential writers. 
Sandra Cisneros is a poet, short story writer, novelist, essaying, performer, and artist whose work explores the lives of the working-class.  She is the author of the classic, coming-of-age novel, The House on Mango Street, published in 1984, which has sold over six million copies and is required reading in schools and universities nationwide.  A MacArthur Fellow, Cisneros has received numerous awards, including the National Medal of the Arts.  Most recently, she received the Ford Foundation's Art of Change Fellowship, was recognized among The Frederick Douglass 200, and won the PEN/Nabokov Award for international literature. She is a dual citizen of the United States and Mexico and earns her living by her pen.  Her life and work are driven by her belief that "we do this because the world we live in is a house on fire and the people we love are burning."  Her forthcoming book, Martita, I Remember You/Martita, te recuerdo, a story in English and in Spanish, will be published in 2021.
She will be joined in conversation by Maria Acosta Cruz, PhD, Professor of Languages, Literature and Culture at Clark University in Worchester, MA.  Dr. Cruz teaches Spanish language and literature and is especially interested in Caribbean and Latino cultures, identity, and national and gender-based stereotypes.  
In addition to her writing, Cisneros has fostered the careers of many aspiring and emerging writers through two non-profits she founded: the Macondo Foundation, which celebrates its 25th anniversary in 2020, and the Alfredo Cisneros del Moral Foundation, which ran for fifteen years. She is also the organizer of Los MacArturos, Latino MacArthur fellows who are community activists. Her literary papers are preserved in Texas at the Wittliff Collections at Texas State University. 
This program is proudly presented as a collaboration of four community libraries in northwest Connecticut: The Hotchkiss Library of Sharon, Kent Memorial Library, The Norfolk Library, and Scoville Memorial Library.
For those who could not attend, we will post a video of the program, which will be available on our website for one week, April 9 through April 15.
Registration:
Registration is closed for this event.