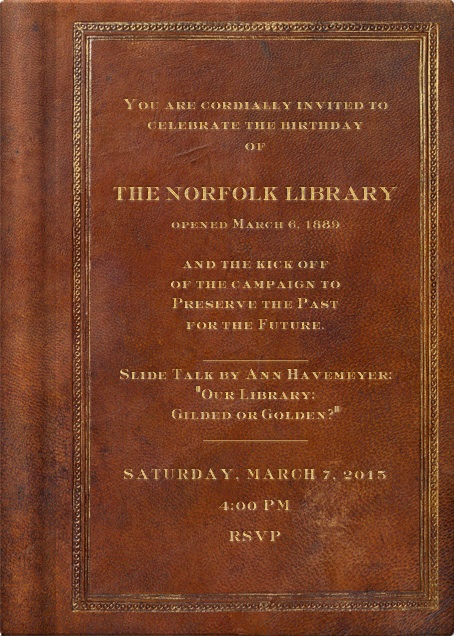 You are cordially invited to celebrate the birthday of
The Norfolk Library
Opened March 6, 1889
and the kickoff of the campaign to preserve the past for the future.
Slide talk by Ann Havemeyer: "Our Library: Gilded or Golden?"
Saturday, March 7, 2015
4:00pm
Birthday cake and champagne!
Please call or register online for a reservation
Documentary Film Series
Monday evenings, 7:00 p.m.
Mark your calendars for Mondays, beginning February 23rd, when there will be screenings of four extraordinary documentary films featuring art, artists, and collectors. Feel free to bring munchies or your own light fare, and enjoy the company and conversation of other cinephiles.
March 2nd: Diana Vreeland: The Eye Has To Travel
She launched Twiggy, advised Jackie Onassis, and made waves at the Factory and Studio 54. This is an overview of the Empress of Fashion's fifty-year reign and a celebration of one of the most influential women of the 20th century and an icon of design. Vreeland was the fashion editor of Harper's Bazaar, where she worked for 25 years before becoming editor-in-chief of Vogue. The Eye Has To Travel was described in The New York Times as dizzily enjoyable: "you may find yourself thinking with an increasing fervor that, yes, wearing violet velvet mittens with everything is a fantastic idea." (Sept. 20, 2012)
March 9th: Levitated Mass
Originally conceptualized in 1968, Levitated Mass is Michael Heizer's massive and controversial work of art, a 150 million-year-old granite boulder more than 21 feet high and weighing 340 tons. Tens of thousands of people came out to watch the megalith travel through their communities to its final resting place over a 456-foot-long negative space formed by a concrete slot at the Los Angeles County Museum of Art. The journey, which cost $10 million, brought together the art community, public officials, and the general population to debate the merits and pitfalls of a giant stone suspended above their heads, while examining the question: "What is art?"
March 16th: Ai Weiwei: Never Sorry
This award-winning documentary provides the inside story of Ai Weiwei, China's most famous international artist and most outspoken domestic critic.  First-time director Alison Klayman gained unprecedented access to Ai while working as a journalist in China. Her detailed portrait provides a nuanced exploration of contemporary China and one of its most compelling public figures.  Never Sorry was named one of the top ten movies of 2012 (New York Magazine).
This program is free. Reservations suggested.