Norfolk: A Documentary by Christopher Little
Dates: 09/19/2015 and 09/20/2015
Time: 4:00 pm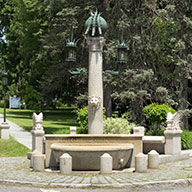 "Unquestionably the best documentary produced about Norfolk in the last year" (Norfolk Now), this long-awaited film will make its public debut at the Library. Highlights of the film shot in four seasons include: stunning aerial views shot from a DJI Quadcopter (the same model that crashed on the White House Lawn); poems, profiles of talented Norfolkians, a brief history, and many town events; Yale's and the Stoeckels' contribution to Norfolk, including the installation of the cupola; curling, sapping at Great Mountain Forest, Christmas on the Green and in the Library, Tobey Pond, the Farmers' Market, and much, much more.
Wine and light hors d'oeuvres will be served after the film (approximate running time: 35-40 minutes), and DVDs will be for sale.
Shakespeare's Powerful Women: Three Evenings with Three Characters
Date: 09/21/2015
Time: 7:00 pm
Mondays, September 21, October 5 and 19
Shakespeare created many powerful, interesting women. Hosted by Kim Maxwell, this series of evening screenings and discussion will feature three such women — Juliet, Portia, and Lady Macbeth — and how they negotiate their way in a world dominated by men. Themes of convention, money, and seduction emerge. Each Shakespeare play will be paired with a popular modern movie: Romeo and Juliet with Shakespeare in Love; Merchant of Venice with Breakfast at Tiffany's; and Macbeth with The Graduate. Interleaved clips from the paired movies will be shown prior to discussion.