Author Talk: David J. DeWitt and "Handwriting Analysis"
Sunday, April 19th, 2:00 pm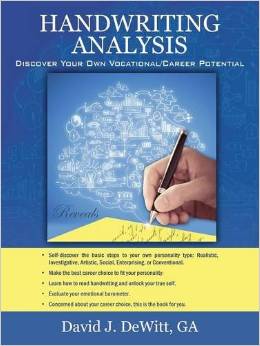 In his book, Handwriting Analysis, David J. DeWitt offers a unique perspective, not found in conventional books on graphology, on linking handwriting analysis with professional satisfaction. Instructing readers in the analysis of their own handwriting, he provides insight into the process of exploring career options through graphology and personality awareness.
The ancient Chinese philosopher, Confucius, once stated 'ÄúFind a job you love and you'Äôll never work a day in your life'ÄĚ … David DeWitt seeks to affirm this timeless advice… I have witnessed Dave practicing his science. The insightful results that he produces by viewing one'Äôs handwriting are astounding, as well as personally and professionally transformational. ¬† ¬†¬†¬†¬†¬†¬†¬†¬†¬†¬†¬†¬†¬†¬†¬†¬†¬†¬†¬†¬†¬†¬†¬†¬†¬†¬†¬†¬†¬†¬†¬†¬†¬†¬†¬†¬†¬†¬†¬†¬†¬†¬†¬†¬† — John De Mado, John De Mado Language Seminars
This program is free. Reservations suggested.