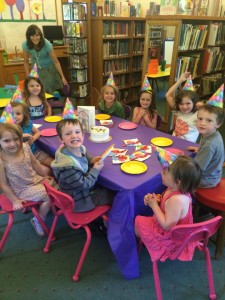 Miss Eileen has been the children's librarian at the Norfolk Library for over 25 years, and has spent her time weaving literacy, stories, creativity and fun for the children of Norfolk!
Story hours run throughout the autumn/winter and winter/spring and are geared towards pre-schoolers and kindergartners.
WINTER 2014 STORY HOURS
Kindergarten Story Hour
Begins Monday, Feb. 3 from 3:30-4-30PM, (Feb. 3 to March 24). Children should be picked up promptly at 4:30pm.
Pre-K Story Hour
Beginning Wednesday, February 5  from 11:40am-12:30pm, this story hour session runs for 8 weeks (Feb. 5  - March 26)
In order to have their children attend, parents must send a note to the school so their children can take the bus to the library from school.
Eileen enriches story time with finger play, songs and stories. Programs like this help children with vocabulary, literacy and social skills and accustom them to the library.  But mostly they have FUN!
To register online click on www.norfolklibrary.org/events, or call the library at 860-542-5075.