Corner Club

During the school year, special programs are scheduled on the last Wednesday of the month at 3:30 pm. Mid-month Corner Club meetings are fun crafts and games. Children will need a note to be dropped off by the school bus. We really appreciate knowing in advance how many children will be attending, so please register by calling 860-542-5075 at least four days before the program. Thank you!

 
HOW COOL IS THAT! Wednesday, Sept. 28. Kids get to dissect a sterilized owl pellet AND they get to take home the bones they find!
COSTUME SWAP Wednesday, Oct. 12. Bring an old costume, hat, scarf, or mask, and maybe you will take home a new idea or disguise! There will be a spooky story, a Halloween craft, and treats.
SHADOW PUPPETS AROUND THE WORLD Wednesday, Oct. 26. Nappy's Puppets will dim the lights and take us into the world of magical shadows.
GAMES! Wednesday, Nov. 16. We will play the Gratitude Game and Bingo!
PUPPETS WITH A TWIST Wednesday, Nov. 30. Sarah Nolen Puppeteer/Filmmaker brings us a Variety Show performed by her theatrical puppets.
FILM AND BOOK RAISER Wednesday, Dec. 14. Love of a Lady, a short film created by Ruth and Hans Heuberger, tells the story of one family's attempt to adopt a shelter dog in France: they don't return with the dog they have chosen, but the original owner gets his long-lost pet back. Ruth wrote and narrates the heartfelt story and will come to the screening. Hans, whose paintings are on display at the Library this month, illustrated the story. The film was created to serve as a book-raiser for local Head Start programs around the county. Children are encouraged to bring a gently used book to the Library to donate to children enrolled at Winsted Head Start.

Special Holiday Program
Friday, Dec.30, 11:00am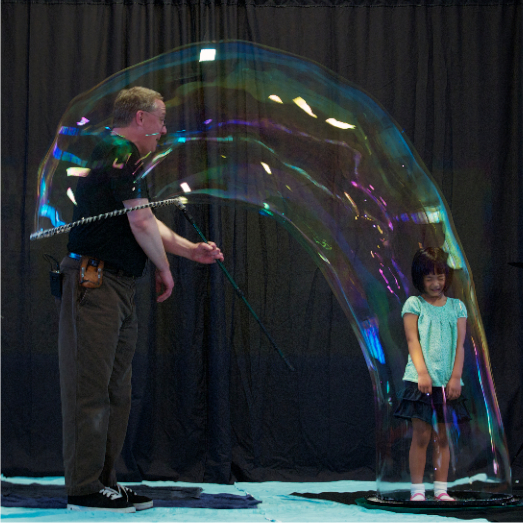 Bubbleology: The Secret World of Bubbles
You can learn a lot from a bubble. 
Bubbleology enchants audiences of all ages with the art and science of soap bubbles.
As seen on Discovery Channel's "Time Warp", National Geographic TV and on-stage by invitation (twice) at America's largest science and engineering festival in DC, Keith Michael Johnson uses bubbles—large and small—to explain liquids, solids and gasses, geometry, tension and pressure.
Keith builds beautiful sculptural creations (massive & miniature) with enthusiasm, humor and style.  One moment he will be encasing a dinosaur in a bubble and in the next moment he's encapsulating an audience volunteer. You will be dazzled by a bubbly Eiffel Tower, a dancing snow-white snow-man, and a spinning space ship as it races toward the ceiling.
While those demonstrations snare viewers attention—Keith reveals the science behind the magic, unfolding the "how-to" like a mystery, making it both educational and unforgettable.
Page-turners
A reading club open to students in the 4th, 5th, and 6th grades, Page-turners meet once a month on Sunday or Friday afternoons. Please contact Eileen Fitzgibbons if your child would like to join the book discussion group.