A Reading of Ukrainian Poetry
Date: 04/10/2022
Time: 2:00 pm-3:00 pm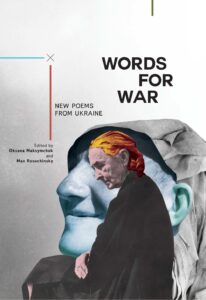 The armed conflict in the east of Ukraine that began in 2014 brought about an emergence of a distinctive trend in contemporary Ukrainian poetry: the poetry of war. Young and old, female and male, somber and ironic, tragic and playful, filled with extraordinary terror and ordinary human delights, the voices of Ukrainian poets recreate the human sounds of war in its tragic complexity.
One way to honor the extraordinary spirit of the Ukrainians in the face of the current Russian invasion is by honoring its rich literary culture. Ilya Kaminsky, a Ukrainian American poet born in Odessa, recently wrote an op-ed in which he described asking friends there how he could help. One, a seasoned journalist, answered "Putins come and go. If you want to help, send us some poems and essays. We are putting together a literary magazine."
Two anthologies, Words for War and What We Live For, What We Die For, make available to us some of the best poets and strongest writing to come out this ongoing conflict. Please join us for a virtual reading of select Ukrainian poems, read by poet Susannah Wood, Davyne Verstandig, and Lucy Mookerjee. The audience will be given a copy of select poems in advance and encouraged to join in the reading. Please register for the webinar here.