The Monuments Men and the Preservation of Art- A Virtual Talk with Anna Bottinelli
Date: 05/05/2022
Time: 5:30 pm-6:30 pm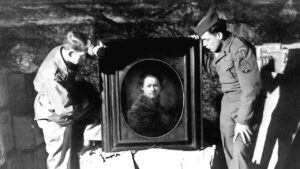 In recognition of V-E Day on May 8, the Norfolk Library will present a virtual program on the Monuments Men with Anna Bottinelli, President of the Monuments Men Foundation for the Preservation of Art. The Monuments Men were a group of American and British men and women—museum curators, art historians, librarians, architects, even artists—who risked their lives to rescue and preserve the artistic and cultural achievements of western civilization from the destruction of war and theft by the Nazis. Despite the success of the Monuments Men and Women, hundreds of thousands of cultural objects remain missing. Many are in the United States. Ms. Bottinelli will discuss the work of the Monuments Men Foundation, created in 2007 to raise worldwide awareness about the service of the Monuments Men and Women, honor them for their achievements, and complete their unfinished mission of returning missing art to the rightful owners.
Born and raised in Florence, Italy, Anna Bottinelli earned her B.A. in History of Art from John Cabot University (JCU) in Rome, graduating Magna Cum Laude. There, she was the recipient of numerous accolades including the 2010 JCU Excellence in Art History Award and JCU Leadership Award. In 2011, she received her M.A. in Art History at The Courtauld Institute of Art in London, with specialization in the Franciscan and Dominican Art of 13th century Italy.
At the same time, Ms. Bottinelli began work as the lead Italian research assistant to #1 New York Times Bestselling Author Robert Edsel on his project to write about the Monuments Men and their preservation work in Italy during World War II. Her work contributed greatly to the success of Mr. Edsel's acclaimed bestseller, "Saving Italy: The Race to Save a Nation's Treasure from the Nazi."
In 2014, Ms. Bottinelli accepted a full-time research position with the Monuments Men Foundation for the Preservation of Art, in Dallas, Texas. By 2017, she had advanced to senior leadership positions and in December 2019, she was appointed as the Foundation's new President, succeeding its founder, Mr. Edsel. During her tenure at the Foundation, Ms. Bottinelli has overseen numerous restitutions of cultural objects to individuals and museums in Europe. She has also served as a consultant for "Hunting Nazi Treasure," an eight-part investigative documentary that continues to air on Discovery's American Heroes Channel, History Channel-Canada, and Canale Focus in Italy, with additional future broadcasts planned internationally.
Today Ms. Bottinelli is considered an expert on the subject of art looting and recovery during World War II. She regularly is a point of contact for provenance attorneys seeking expert opinions on art restitution cases involving Italy. Ms. Bottinelli has close ties with the art restitution unit of the Italian Carabinieri, who have been steadfast supporters of the Monuments Men Foundation and its mission.
Ms. Bottinelli is currently based in Dallas with her husband and two little boys, but she divides her time between the U.S. and Italy.
Register for this webinar here:  https://us02web.zoom.us/webinar/register/WN_0NFsdS_6SvuFQ3JhSE09Wg