The Films of Alfred Hitchcock with Brian Rose
Date: 10/30/2022
Time: 4:00 pm-5:00 pm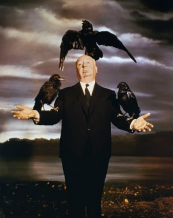 Alfred Hitchcock is probably the most famous film director who ever lived. For five decades, first in England, then in Hollywood, he made fifty-four films, including classics such as The Thirty-Nine Steps, Rebecca, Notorious, Rear Window, North by Northwest, Vertigo, and Psycho. Few filmmakers have been as popular, critically celebrated, and as influential, not only as a director but also as a multi-media showman through his tv series, magazines, book anthologies, even extending to board games and record albums. This virtual presentation looks at his achievements as "the master of suspense," and through dozens of film clips, examines his extraordinary creativity as one of the 20th century's greatest filmmakers.
To register for this webinar, please click here.
BRIAN ROSE is a professor emeritus at Fordham University, where he taught for 38 years in the  Department of Communication and Media Studies. He's written several books on television history and  cultural programming, and conducted more than a hundred Q&A's with leading directors, actors, and writers  for the Academy of Motion Picture Arts & Sciences, the Screen Actors Guild, the British Academy of Film and  Television Arts, and the Directors Guild of America.
The Norfolk Library has an extensive collection of Alfred Hitchcock movies available via streaming and DVD.
The 39 steps available on DVD
The Birds available on DVD
Blackmail available on DVD
Dial M for Murder available on Kanopy
Jamaica Inn available on DVD or Hoopla
Juno and the Paycock available on DVD
Family Plot available on DVD
The Farmer's Wife available on DVD
Frenzy available on DVD
The Lady Vanishes available on DVD
The Man Who Knew Too Much available on DVD or Hoopla
The Manxman available on DVD
Marnie available on DVD
Murder available on DVD
Number 17 available on DVD
Rear Window available on DVD
Rich and Strange available on DVD
Rope available on DVD
Sabotage available on DVD
Saboteur available on DVD
Shadow of a Doubt available on DVD
The Secret Agent available on DVD
The Skin Game available on DVD
Torn Curtain available on DVD
Topaz available on DVD
Young & Innocent available on DVD