Books & Boots at Bald Mountain: Sermons in Stone
Date: 11/20/2022
Time: 2:00 pm-3:30 pm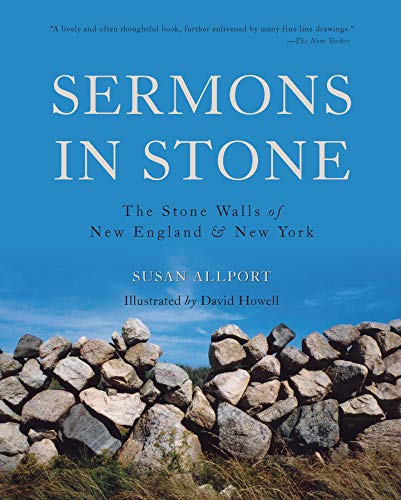 Read Sermons in Stone: The Stone Walls of New England & New York by Susan Allport and illustrated by David Howell, then lace up your boots as we hike Bald Mountain in Norfolk to discuss under the leadership of Hartley Mead. All hiking abilities welcome. No rain date; we'll post on the Norfolk Library website and social media by 12pm on November 20 if the hike is cancelled.  This program is in partnership with the Norfolk Land Trust.
Meet at the highest point on Bald Mountain Road at 2:00pm on Sunday, November 20. Bald Mountain is a dead end road; Kelly Kandra Hughes from the Norfolk Library and Hartley Mead from the Norfolk Land Trust will be waiting to greet people.
Please register below.
More about the book:
A well-written, fascinating contribution to the region's social and economic ―Boston Magazine
What do we actually know about stone walls? about the people who built them, and why? Stone walls are not simply monuments to the skill of Yankee farmers. The historical record makes clear that many were built by slaves, Indians, indentured servants, and children. Sermons in Stone is the surprising and illuminating history of the walls, a story that begins in the Ice Age and that has been shaped by the fencing dilemmas of the nineteenth century, by conflicts between Native Americans and colonists over land use, by American waves of immigration and suburbanization. "Who would think that a history of that humble workaday structure, the stone wall, would be so full of the fascinating, the peculiar, the downright eccentric? But here it is, laid out in a sprightly style and beautifully illustrated by the ink drawings of David Howell." ―Dallas Morning News 47
Sermons in Stone is available at 17 libraries throughout Connecticut. If you would like to request a copy through inter-library loan, please contact Norfolk Library's Front Desk Circulation at thenorfolklibrary@gmail.com or 860-542-5075, ext. 2.
Registration:
Registration is closed for this event.