Performance: Murphy Beds & Friends THIS EVENT IS FULL
Date: 03/13/2022
Time: 5:00 pm-6:00 pm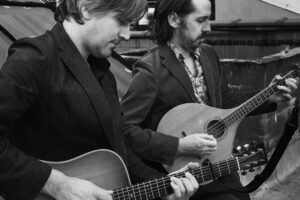 The Norfolk Library presents a lively evening of traditional Irish music with a stellar line-up of internationally-recognized Irish and American musicians, including guitarist and singer-songwriter Eamon O'Leary and Jefferson Hamer, known as The Murphy Beds. Along with friends from the traditional music world –  Brenda Castles, Joey Alberta, and Liz Hanley – the Murphy Beds will perform classic and original folk songs with close harmonies and deft instrumental arrangements on bouzouki, guitar, and mandolin. Reservations are required for this concert, our first in-house performance since the pandemic began two years ago. Please register here.

Jefferson and Eamon have been performing together for some years now, having first met at Irish sessions in New York City. Both had a love for collecting, arranging, and performing songs from Irish, American, Scottish, and English traditions. As they began to collaborate – first in larger ensembles, but most enduringly as a duo – they also recognized an affinity for other more contemporary idioms. Whatever the source – songs of the Irish travelers, Arkansas spirituals, or their own compositions – their arrangements feature the same carefully wrought interplay of voices and strings. In 2012 they recorded their debut album The Murphy Beds in New York City (a name that subsequently became shorthand for the duo itself.) As well as playing with many friends and comrades from the 'trad' music world they have also performed and collaborated with artists across the folk spectrum including Beth Orton, Bonnie 'Prince' Billy, Anais Mitchell, and Sam Amidon.
"their great feat turns out to be taking what's best of the classic Irish folk revival without falling into any of its clichés. The resulting album bears repeated listening from start to finish, with ten beautiful, crystalline songs." –Huffington Post
Eamon O'Leary started playing Irish music while growing up in Dublin. When he moved to New York City in the early 90's, he immersed himself in the city's traditional music scene and travelled widely, performing with many of the great players in Irish music. In 2004 he and fiddler Patrick Ourceau released the album Live at Mona's. Eamon has taught at many traditional music programs around the world and also records and performs original music. His last solo record, All Souls, was released in 2018. Other recent recordings of note include The Alt with John Doyle and Nuala Kennedy, and The Immigrant Band, a joint and old-time and Irish endeavor with John Doyle, John Herrmann, and Rafe and Clelia Stefanini.
Jefferson Hamer is a guitarist and singer based in Brooklyn, NY. In 2013, in addition to The Murphy Beds, he and songwriter Anais Mitchell released Child Ballads, a collection of new adaptations of English and Scottish folk songs which won a BBC Radio 2 Folk Award. His original songs are featured on the 2016 album Great Shakes by Cambridge, MA roots rock ensemble Session Americana. In the Oct. 2013 issue, Acoustic Guitar magazine wrote, "A gifted guitarist and singer, Hamer is able to hit close harmonies… and weave gorgeous instrumental lines."
Brenda Castles comes from a rich tradition of music in Co. Meath, having learned concertina from Rena Traynor and concertina maestro, Mícheál Ó'Raghallaigh. She has several All-Ireland Fleadh titles to her name both in solo and group competitions and was a finalist in one of the early Young Traditional Musician of the Year competitions. Music has taken her around the world from Hong Kong to Reykjavik, Taipei to Tipperary. In 2016 Brenda released her first solo album of traditional Irish music on concertina, 'Indeedin You Needn't Bother' to critical acclaim and her latest album, 'The Light Side of the Tune' has just been released. Brenda is much in demand as a performer and teacher and is a regular at arts weeks and festivals globally.  She performs both as a solo artist and with the Green Fields of America collective.  She has recently completed a residency at the Centre Culturel Irlandais in Paris and is fresh from a solo performance at Temple Bar Tradfest in Dublin.
Joey Abarta has spent more than half his life traveling, teaching, and performing music on the uilleann pipes, the Irish bagpipe. Originally from California, he first received instruction on the pipes from Dubliner Pat D'Arcy, a founding member of the Southern California Uilleann Pipers Club. In August of 2009, Joey's accomplished playing won him a second place title worldwide at the Fleadh Cheoil na hEireann. In the fall of 2014 Joey won first prize at the An tOireachtas, becoming the the first American uilleann piper to do so since 1969. In 2015 Joey was honored to be a recipient of a traditional arts apprenticeship from the Massachusetts Cultural Council and was awarded a grant to teach his art to the next generation. This year Joey was awarded an Artist Fellowship in the Traditional Arts from the Massachusetts Cultural Council and recognized as a bearer and conduit of a cultural tradition by his peers and the state of Massachusetts. Currently based in Boston, Joey divides his attention between performance, teaching, and recording.
Liz Hanley is a Brooklyn based, Boston born singer and fiddle player. Recognized as a "versatile performer" by The Irish Echo, Hanley was trained in classical violin and voice, marinated in Irish and American folk traditions and tumbled in the rock n roll dryer. Vents Magazine states "Liz Hanley is a singer with the sort of crystal-clear, instantly ingratiating voice that has always been a hallmark of progressive folk-rock" and Irish Music Magazine write "Liz Hanley has that uncanny knack and the distinctive voice to reawaken our interest in the familiar…"  Hanley has toured globally and recorded with groups such as Frogbelly and Symphony, Green Fields of America, The Mighty Oaks, and Emanuel and the Fear. Hanley's debut album The Ecstasy of St Cecilia was hailed a "gentle work of beauty" by FolkWorld and features Eamon O'Leary and Jefferson Hamer. 
Registration: