Books & Boots: Read The Hawk's Way, then join us for a hike and discussion
Date: 07/30/2022
Time: 8:30 am-9:30 am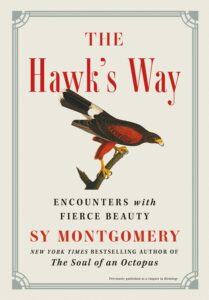 Read The Hawk's Way: Encounters with Fierce Beauty by Sy Montgomery, then lace up your hiking boots as we hit the Old Carriage Trail in the Barbour Woods on Saturday, July 30, at 8:30 a.m. to discuss. Meet Kelly Kandra Hughes at the Barbour Woods Trailhead on Lovers Lane. Bring water and insect repellant. All hiking abilities welcome. Rain date will be August 13. This Norfolk Library program is in partnership with the Norfolk Land Trust. Please register here.
About the book:
A splendid and luminous celebration of one of nature's most perfect and mysterious creatures—the hawk—from the New York Times bestselling author of the "astoundingly beautiful" (NPR) The Soul of an Octopus.
When Sy Montgomery went to spend a day at falconer Nancy Cowan's farm, home to a dozen magnificent birds of prey, it was the start of a deep love affair. Nancy allowed her to work with Jazz, a feisty, four-year-old, female Harris's hawk with a wingspan of more than four feet. Not a pet, Jazz was a fierce predator with talons that could pierce skin and bone and yet, she was willing to work with a human to hunt. From the first moment Jazz swept down from a tree and landed on Sy's leather gloved fist, Sy fell under the hawk's magnetic spell.
Over the next few years, Sy spent more time with these magnificent creatures, getting to know their extraordinary abilities and instincts. They are deeply emotional animals, quick to show anger and frustration, and can hold a grudge for years. But they are also loyal and intensely aware of their surroundings. In this mesmerizing account, featuring sixteen pages of gorgeous color photographs, Sy passionately and vividly reveals the wondrous world of hawks and what they can teach us about nature, life, and love.
Registration:
Registration is closed for this event.