Books & Boots at Aton Forest: Silent Spring
Date: 04/29/2023
Time: 10:00 am-11:00 am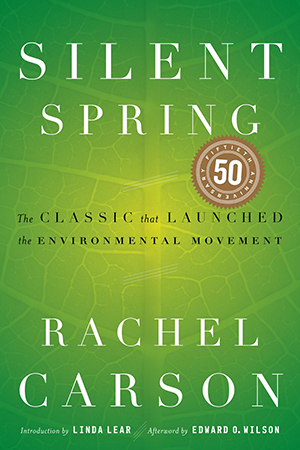 Read Silent Spring by Rachel Carson, then lace up your boots as we hike Aton Forest in Norfolk to discuss under the leadership of Kelly Kandra Hughes and Hartley Mead. All hiking abilities welcome. In the event of rain, we'll meet inside the Aton Forest Headquarters for our book discussion.  This program is in partnership with the Norfolk Land Trust and the Norfolk Church of Christ Green Team.
Meet at the Aton Forest Headquarters on 270 N. Colebrook Road in Norfolk at 10:00am on Saturday, April 29. Kelly Kandra Hughes from the Norfolk Library and Hartley Mead from the Norfolk Land Trust will be waiting to greet people.
Please register below.
More about the book:
First published by Houghton Mifflin in 1962, Silent Spring alerted a large audience to the environmental and human dangers of indiscriminate use of pesticides, spurring revolutionary changes in the laws affecting our air, land, and water. "Silent Spring became a runaway bestseller, with international reverberations . . . [It is] well crafted, fearless and succinct . . . Even if she had not inspired a generation of activists, Carson would prevail as one of the greatest nature writers in American letters" (Peter Matthiessen, for Time's 100 Most Influential People of the Century).
This fortieth anniversary edition celebrates Rachel Carson's watershed book with a new introduction by the author and activist Terry Tempest Williams and a new afterword by the acclaimed Rachel Carson biographer Linda Lear, who tells the story of Carson's courageous defense of her truths in the face of ruthless assault from the chemical industry in the year following the publication of Silent Spring and before her untimely death in 1964.
Silent Spring is available at 43 libraries throughout Connecticut. If you would like to request a copy through inter-library loan, please contact Norfolk Library's Front Desk Circulation at thenorfolklibrary@gmail.com or 860-542-5075, ext. 2. A downloadable audio version of the book is instantly available through Hoopla.
Registration:
Registration is closed for this event.