Big Magic: A Creative Book Study Group with Tom Hlas
Date: 01/10/2023-01/31/2023
Time: 5:00 pm-6:00 pm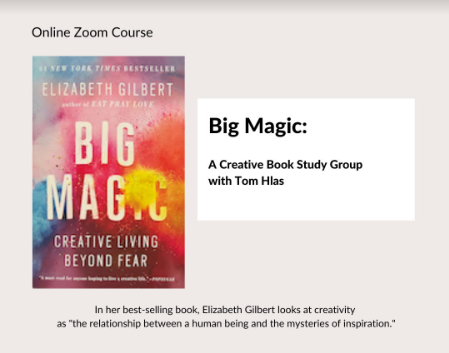 If you've ever felt creative, wanted to do something creative, or got stuck in your creativity, this book and course is for you. 
If you've already embraced creativity, you'll take a much deeper look into your own creative journey. 
In this course, artist and educator Tom Hlas will lead us in reading and studying the bestseller, Big Magic: Creative Living Beyond Fear by Elizabeth Gilbert, chapter by chapter. 
Class will meet via Zoom from 5:00-6:00pm on Tuesday, January 10, 17, 24, and 31.
Tom will provide a journal in pdf format that asks questions based on what you'll read. It's a journal you can use to reflect on your own thoughts about how you think about creativity, where you want to go, what stops you and what your own creative journey might look like. 
Creative Projects 
Plus, each week we'll do a variety of projects and exercises to stimulate your creativity. 
Zoom Classes are Recorded. 
A Materials List will be provided. Each person will receive a journal they can print.
To register for this course, please click HERE. 
Tom Hlas is an abstract painter in Connecticut who works primarily in acrylics and mixed media. His abstract work and often times conceptual titles allow the viewer to draw their own inspiration, meaning, and enjoyment from the work rather than be influenced by his own underlying thoughts and feelings present when he created the painting.
Tom studied drawing and painting with Ken Conley and Laura Conley at the Montgomery Community College in Rockville, Maryland, early in his career. His diverse educational experiences, from a Bachelor degree in Vocal Music and postgraduate studies in philosophy and theology to on-the-job training in the marketing, graphic design and art reproduction world, have all colored his artistic work. He finds a kinship and inspiration in the abstract expressionists, color field painters and the print makers and collage artists of today.  In both 2009 and 2010, he was awarded a one-month artist residency at the Vermont Studio Center in Johnson, Vermont.