Author Talk: Mark Scarbrough in conversation with Genevieve Gagne-Hawes about his newly-released memoir Bookmarked
Date: 10/24/2021
Time: 4:00 pm-5:00 pm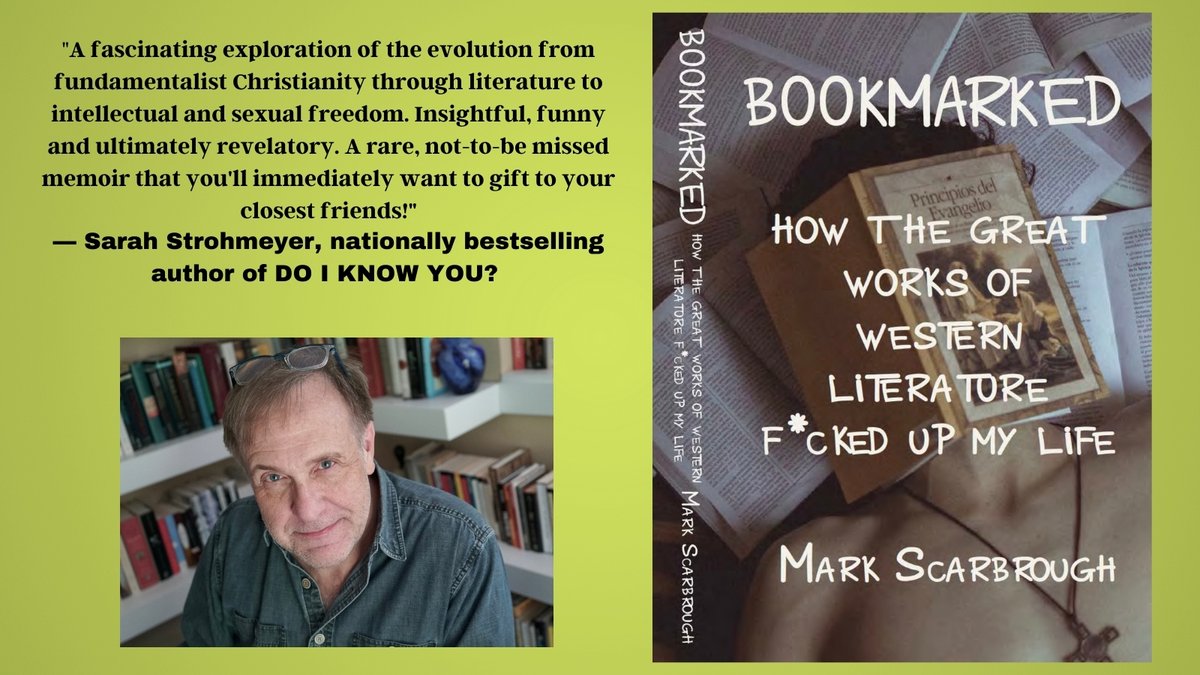 New York Times bestselling cookbook author, educator, podcaster, and Norfolk Book Group leader Mark Scarbrough will appear virtually in conversation with Dr. Genevieve Gagne-Hawes, the in-house editor at Writers House, about his new memoir released on September 23, Bookmarked: How the Great Works of Western Literature F*cked Up My Life. Their conversation will include a broader discussion of the overall writing process and the business and editorial side of memoirs.
To register for this event, please click here. To purchase this book from our local independent bookstore Oblong Books, visit here.

Mark Scarbrough is the author of more than 30 cookbooks, has made countless national television appearances cooking up a storm and laughs, and hosts three successful podcasts. But behind all the food, spotlights, and fun lies a deeper story. Mark has been searching for something his entire life. An adopted kid, he has always been yearning for his birth mother, his purpose, his identity. Starting on the fateful day that he fell out of his world and into what felt like a Texas-based version of The Stepford Wives, Mark heads out into the multiverse of plots on a quest to find out who he really is, leaving behind pulp fiction and using the great Western texts as his ultimately unreliable companions. He now shares that story in his extraordinary poignant new memoir.
In the tradition of beloved titles like The End of Your Life Book Club, Reading Lolita in Tehran, and The Year of Reading Dangerously, Bookmarked tells a deeply personal story through the lens of literature. Except this is not a story about the ways literature can save you. It's about how it can ruin you: how the great works of Western literature shaped, molded, and broke Mark until he found a way to control the voices in his head by his own voice, one made from love and in a true home.
Mark has published 35 cookbooks with his husband, Bruce Weinstein. Bookmarked is the first time he has told his own story through memoir. He hosts three successful podcasts, Walking with Dante, the only podcast to slow-walk Dante's Comedy and Lyric Life, a podcast devoted to the pleasures of lyric poetry.  With Bruce Weinstein, he hosts a popular food podcast, Cooking With Bruce and Mark. He also teaches eight-week seminars on Virginia Wolf, William Faulkner, and Toni Morrison and leads an international book group of more than 150 committed readers who work through challenging fiction while zoom-sipping wine. Mark has been featured on outlets like TODAY – NBC, The View, Good Morning, America, NPR's Morning Edition, Fox and Friends, and The Martha Stewart Show.
Dr. Genevieve Gagne-Hawes has been the in-house editor at Writers House, one of the world's largest literary agencies, since 2012, and has worked at the agency in various capacities, including editorial consultant and assistant to the chairman, since 2003. She received her doctorate in postcolonial British Literature at the University of British Columbia in 2012. In her time at Writers House, she has edited numerous New York Times bestsellers and Reese's Book Club picks, and in 2003, she plucked Stephenie Meyers' worldwide YA phenomenon, Twilight, from the submission pile. Her editorial work is focused on helping authors grow their narratives and develop their unique voices, with an eye toward the ever-evolving commercial market. She can be found on Twitter at @genevievejude.
For more information visit www.markscarbrough.com and connect with him on Instagram and Facebook.