All CT Reads Book Discussion: When Women Were Dragons
Date: 03/26/2023
Time: 2:00 pm-3:00 pm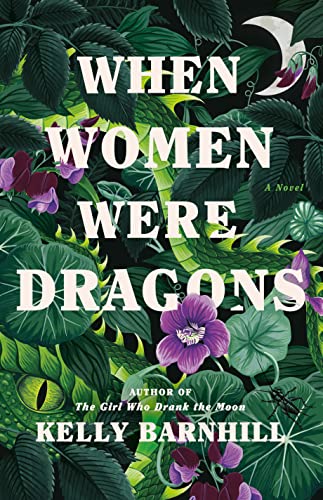 Please join us for our All CT Reads book discussion of When Women Were Dragons by Kelly Barnhill. Set in the 1950s, this speculative fiction alternative history of the United States  provides an interesting and thought-provoking twist on female choice, especially as we celebrate National Women's History Month in March. Multiple copies of the book are available at the library. Please register below to reserve your copy of the book and to reserve a spot in our discussion. Tea and cookies will be served.
Reviews:
"A complex, heartfelt story about following your heart and opening your mind to new possibilities. This novel's magic goes far beyond the dragons."
—Kirkus (starred review)
"Ferociously imagined, incandescent with feeling, this book is urgent and necessary and as exhilarating as a ride on dragonback."
—Lev Grossman, author of The Magicians Trilogy
"Completely fierce, unmistakably feminist, and subversively funny, When Women Were Dragons brings the heat to misogyny with glorious imagination and talon-sharp prose. Check the skies tonight—you might just see your mother."
—Bonnie Garmus, author of Lessons in Chemistry
"[A] riveting historical fantasy…What's surprising about Barnhill's rare foray into adult fiction is its subversiveness and feminist rage. It's a powerful, searing novel that feels deeply true, despite its magical premise."
—BuzzFeed
"Kelly Barnhill's poetic, pointed tale tackles the era's pervasive silence concerning all things female."
—Christian Science Monitor
"Kelly Barnhill couldn't have realized when she wrote When Women Were Dragons how prescient it would be when it went on sale this month…Barnhill's prose is gorgeous and powerful."
—The St. Paul Pioneer Press
"A deeply felt exploration of feminism in an alternate fantastical history…This allegory packs a punch."
—Publishers Weekly
"Barnhill's sharp and lyrical prose showcases the joys and agonies of female power in this coming-of-age/alternate history."
—Library Journal
"If much of the novel feels like a full-throated howl, an indictment of a system of gender apartheid, an alchemy occurs in the final chapters…Kelly Barnhill reimagines a world where women face 1950s-style constraints, and find a path out."
—Minneapolis Star Tribune
Registration:
Registration is closed for this event.