Two Aesop's Fables: A Virtual LIVE Puppet Show by WonderSpark Puppets
Date: 06/22/2020
Time: 6:00 pm-6:45 pm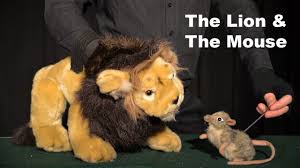 WonderSpark puppets performs two amazing Aesop's Fables: 'The Lion and the Mouse' and 'The Tortoise and the Hare'. Each fable is highly interactive, plus children will learn about forgiveness, the power of kindness, and good sportsmanship. Find out more here. This tabletop puppet show is 35-40 minutes long.
Here is the link to the show (password required!)
WonderSpark Puppets is inviting you to a scheduled Zoom meeting.
Topic: The Lion & The Mouse Puppet Show
Time: Jun 22, 2020 06:00 PM Eastern Time (US and Canada)
Join Zoom Meeting
Meeting ID: 832 3276 1952
Password: PUPPETS
Registration:
Registration is closed for this event.