A Birthday Party and Puppet Show celebrating Hans Christian Andersen
Date: 04/02/2022
Time: 10:30 am-11:30 am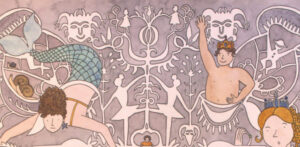 Did you know that Hans Christian Andersen's birthday is celebrated annually around the world? On Saturday, April 2, the Norfolk Library will join the fun and celebrate the birthday of this prolific Danish author, who was born in 1805 and is best remembered for his literary fairy tales. Everyone is invited to see the Lionheart Puppet Company present one of Andersen's classic fairy tales The Emperor's New Clothes at 10:30 a.m., followed by a slice of birthday cake. After the show, the puppeteer will be happy to answer all questions about the puppets. Please let us know you will be there by calling library circulation 860-542-5075 or registering here.
Artwork by Latvian, Estonian and Belarusian children interpreting the fairy tales of Hans Christian Andersen in a competition sponsored by the Danish Cultural Institute.
Registration:
Registration is closed for this event.