Rosemary Gill, Solo Show:
When Summer Stock Came to Town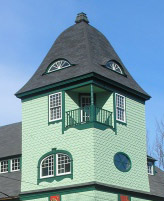 It's 1999, the last summer of the 20th century, in the mountaintop village of Norfolk, CT, and the Greenwoods Theater has come to town to launch a summer stock season. The producers announce that one of their shows is going to Broadway. They hold open auditions for all locals interested in playing extras. Rosemary Gill is the only one who shows up. This is her story.
Written and performed by Rosemary Gill, there will be two performances at 6:00pm and 8:00pm.